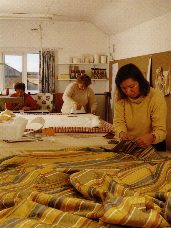 At Merrick & Day we run a professional curtain-making workroom in North Lincolnshire. We specialise in making custom-made, hand-sewn, interlined curtains, Roman blinds and window top treatments for trade customers or larger projects

Our bespoke curtain make-up service is mainly for interior designers and project managers although retail customers running their own multiple curtain projects and sourcing their own fabrics are welcome.

Merrick & Day make up window treatments from fabric provided by the client and working measurements from the client or their curtain fitter. We supply all linings, interlinings and any other curtain supplies required for the window treatments.

We not only provide a hand-sewn curtain make-up service for clients in Lincolnshire, but also in London, nationally and internationally.

If you are interested in our hand-sewn curtain-making services, then please email us with your requirements and contact details at or phone Sharon Daniels on 01652 640113 to discuss your requirements.