About the Super Rotary Chain System
This system is very popular and was the original design for chain type systems, it is cheaper than the newer Compact-2 and Deluxe-3 cassette type system. It is however more bulky than the cassette systems and is not so elegant when installed in the window reveal as the mechanism can be seen from outside through the window. When installing above the window the more bulk is not an issue as it is hidden behind the blind.


The cord drops have sufficient cord for a blind drop of 280cm.

The made-up headrails and kits are supplied with a 1:1 ratio standard chain drive, suitable for blind weights of up to 2kg.

For weights up to 4.5kg a heavy duty chain drive with a 1:5 gear ratio and extra universal brackets are available,

For an even smarter look purchase a brass nickel, or chrome chain.

Widths can be cut to size with a junior hacksaw.

Drops can be adjusted by using the correct amount of fibre glass rods for the window.

Care should be taken when cutting. For best results wrap fibre glass rods with tape at point of cutting.


Chain Safety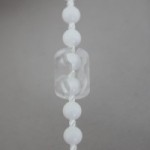 Chain safety breakaway device with 3.5m of chain is now included. The safety breakaway device allows the chain length to be a minimum of 60cm from the floor. Tensioning device, screwed to the wall at 1.5m from the floor, is not required (unless using heavy duty chain drive with a continuous chain). Fully compliant with BS EN 13120,BS EN 16433 and BS EN 16434 Child safety regulations.