Super Corded System
The Super Corded system is a simple inexpensive system for Roman Blinds. It incorporates a cord lock so that the blind can be locked off in any vertical position. Whilst in principle the system can accommodate any Roman blind weight, care should be taken not to allow the blind to be too heavy as the system has no mechanical advantage (unlike the chain-operated blind kits) and all the weight must be pulled up by the operator.
Chain Safety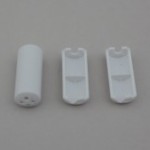 Cord safety breakaway device is now included in headrails up to 4 cord drops. For 5 cord drops and over a standard cord connector may be used providing the cord connector is within 5cm from the bottom of the headrail.
Fully compliant with BS EN 13120,BS EN 16433 and BS EN 16434 Child safety regulations.
About the Super Corded System
Available as kits, headrails or individual components.
Widths can be cut to size with a junior hacksaw.
Drops can be adjusted by using the correct amount of fibre glass rods up to 280cm.
Care should be taken when cutting. For best results wrap fibre glass rods with tape at point of cutting.

For additional components see Super Corded Roman Blind Kits - Instructions, Hints & Tips (pdf)..